x
Sustainability
Materials Matter
The New Karolinska Solna hospital in Stockholm, targeted both gold LEED certification and gold in the Swedish environmental standard Miljöbyggnad. According to Jörgen Pell, engineer at White Arkitekter, targets were used "... mostly because of the materials we use." This meant selecting suppliers who used materials with a high sustainability rating – and none of the project's 12,000 doors could contain PVC.
Doors have played a considerable role in making sure energy efficiency is present in every part of the hospital. For the main entrances, Pell and his team weighed up the merits of using a combination of sliding and revolving doors against two sets of sliding doors. They opted for the latter because it was a cost-efficient way of keeping the interior cool in the warmer summer months and retaining heat during the unforgiving chill of the Stockholm winter.
Download article: Sustainability showcase…
"Targets were achieved mostly because of the materials we used."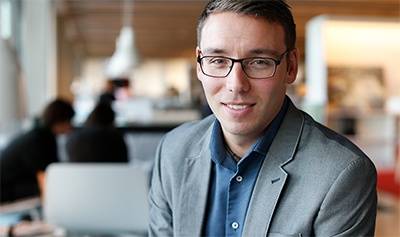 x
Compliance
High standards for hygiene
Regulations and certifications play a huge role in the design of a hospital. And for Jörgen Pell and his team at White Arkitekter, one of the key considerations when working on the New Karolinska Solna hospital was hygiene logistics. Together with ASSA ABLOY, Pell developed the ASSA Hygienic Handle to prevent the unnecessary spread of bacteria between different parts of the hospital. The ASSA Hygienic Handle makes it easy to open the door without using your hands. Instead, you can open doors with the underside of your arm, so the bacteria on your hands never comes into contact with the handle.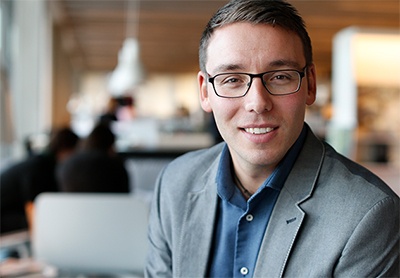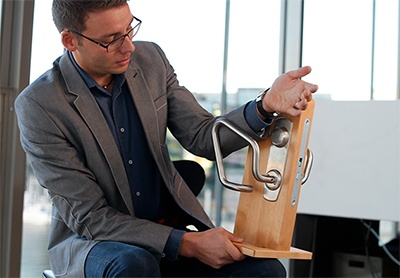 Each area of the hospital has its own standards and regulations to comply with. Public areas, where automated doors control the flow of people, demand a greater number of security and fire precautions. Further into the hospital safety and security procedures change to take account of the level of access and specialized treatment areas. Working with ASSA ABLOY Entrance Systems, Jörgen Pell and his team were able to ensure all their automated doors met the required standards for each section.
x
Aesthetics
A healing environment
It has long been thought that quality of materials, light and space play a major role in creating a calm environment that promotes wellness and healing. Because of this, aesthetics were always top-of-mind throughout the design process of the New Karolinska Solna hospital.
The hospital's public spaces have larger doors, and feature robust, industrial materials such as steel and glass. Entrances take advantage of sliding doors which take up little space and allow for a steady flow of traffic in and out of the hospital. In the patient areas the emphasis is on softer, more natural materials such as wood and plaster, to help patients feel more at home.
x
Functionality
Ease of navigation
Such a big hospital demands major design considerations to make it as functional as possible. To ensure ease of navigation in the New Karolinska Solna hospital, White Arkitekter used different colors for different levels, departments and buildings, and different materials to identify different areas. Jörgen Pell explains that entrance systems are crucial to navigation because they mark the borders between different areas and wards, and as long as they are well coordinated they will help direct people around the hospital.
"... the entrance systems are coordinated to make every person know where to go and what to use or not."
Not only are the logistics of the hospital extensive and complex, they also need to take wheelchair, wheeled-bed and equipment access into account. This means the floor had to be free from steps and thresholds. Jörgen and his team worked closely with ASSA ABLOY to relocate closing mechanisms and seals that would otherwise be incorporated under a threshold.
x
Project & Process
BIM - a model for collaboration
Working on a project the scale of the New Karolinska Solna hospital requires a high level of strategic thinking. It also requires great communication and documentation between a huge team of architects, engineers and planners. With this in mind, the team chose to work in BIM. This meant that during the 10-year project, files, drawings and documents could be accessed by multiple architects and engineers at once, which greatly expedited the design process.
"White Arkitekter made huge leaps forward in the BIM methodology of working."
The hospital quickly turned into one of the world's biggest ever BIM models. Jörgen Pell says: "White Arkitekter made huge leaps forward in the BIM methodology of working."
Download article: Specs, how low can you go
Download article: How BIM has changed design
BIM facilitated a truly collaborative workflow which encompassed suppliers, specialist architect consultants, engineers and contributors. BIM gave the huge team a common platform for communicating how each component of the design was expected to look, feel – and cost. This was borne out in the collaboration between Pell's team and ASSA ABLOY to develop a good deal of the hospital's 12,000 doors. The result showcases the use of BIM in the continual development of specifier/supplier relationships for any development.

Read about Sri Charleroi